Sale!
Yamaha DTX10K-M Electronic Drum kit – Real Wood
$2,599
Other features
MIDI Interface: Both USB and 5-pin MIDI In and Out
USB: Both for computer/tablet/phone linking and also sample loading
Internal Effects: Yes – Compression, Transient Control and EQ on every channel, plus 2x Send Effects, plus Master Effects.
Master Out: L+R
Individual Outs: 4x stereo outputs
Headphone Connection: 6.3mm and 3.5mm
Auxiliary Input: 6.3mm and 3.5mm
Integrated Metronome: Yes
Recording Function: USB (90 seconds internally or 90 minutes to USB)
Display: Yes
Digital Output: Yes, USB Audio to device, or record direct to USB drive.
Bass Drum Pedal Included?: No
Compare
           Yamaha DTX10K-M Electronic Drumkit – Real Wood
A New E-Drum Offering From Yamaha
The Yamaha DTX10K-M is the latest and greatest offering from Yamaha's E-drums department. The DTX10 comes with Real wooden shells which give the DTX10 a striking appearance, 2 distinct finishes help to bring this whole drum kit together, This model is in the stunning Real Wood finish. The Brand New DTX-PROX Module has been designed from the ground up specifically for use with the DTX10. These Brand new Yamaha Drum Kits come with something that Yamaha have never offered before, Mesh Heads! Now you can choose between Yamaha's acclaimed TCS (Textured Cellular Silicone) Pads or Yamaha's brand New mesh heads.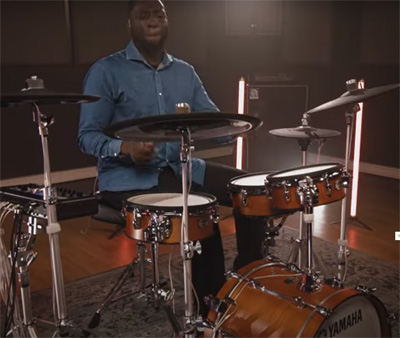 ---
The Yamaha DTX8 and DTX10 can also be customised to look like a traditional kit
FEATURES
XP125SD-M: 12″ Mesh Head 2-Zone Snare Pad
PCY175: 3-Zone 17″ Cymbal Pad for ride cymbal with positional sensing
KP128: 12″ Mesh Head Kick Pad with multi layer cushion damping
3x Kit Modifier Knobs to instantly add real sampled room Ambience, Compression, and other Effects
Independent Compression for every channel
3 Sweepable Band EQ for every channel
Transient Adjustment for every channel
Training Functions
256-note Polyphony
8 Individual Outputs plus Master Left and Right
Links to "Rec'n'share" App for Android and iOS for recording, practising, and filming
The New Yamaha DTX-PROX Module
The Brand New DTX-PROX sound module offers totally new sound quality with samples recorded in some of the finest studios in Europe. These sounds can be adjusted and tweaked with a whole host of studio effects so the user can tailor the sound to their exact needs. Users can also upload up to 1000 of their own samples with the addition of the 700+ internal sounds. The DTX-PROX also has 10 outputs suitable for all recording and live situations as well as other features aimed directly at professional level players.
Unique to the DTX-PROX Modules are the Kit Modifier Knobs which allow the user to instantly change the sound of the Kit by adjusting real sampled room Ambience (not just digital Reverb), Kit Compression, and other Effects in real time. Every channel also has EQ, and Transient Adjustment which is usually found in studio software and allows you to change the Attack and Decay of the sound to suit your needs
Bluetooth connectivity
The Yamaha DTX-PROX is the very first Yamaha Drum Module to have Bluetooth connectivity, this means you can connect it to your smartphone or tablet for audio playback or specialist click apps
DTX-PROX User Interface
The Mode selection Knob on the DTX-PROX allows you to easily move between the different functions of the module without having to dig to deep into menus. You very quickly have access to Kit Select, Click functions, Trigger functions, the Recorder, and Live Set.
The Fader select knob allows you to quickly change the functionality of the LED rotary faders. For example if you want to change the mix of the kit you just need to select mix using the fader select knob and the 7 LED faders become volume sliders. If you want to change the tuning of each instrument then you just need to select the tuning mode using the Fader select knob and the 7 LED Rotary Faders become tuning knobs for all the pads.
AUX Inputs
The DTX-PROX Drum Module has 2 AUX inputs, one on the back panel (6.35mm) and one on the front panel (3.5mm). All stereo Jacks can be routed to different locations or outputs depending on the module. They can be used by the drummer as a monitor mix output or can be routed to just the headphones
Brand New DTX Sounds
The sounds for the DTX-PROX Module have been recorded in some of the best studios in Europe. Great care has been taken to record each sound from the initial stick impact to the last usable vibration. As well as the direct microphone sounds from the drums and cymbals themselves, the sounds of the instruments in the studios themselves were also captured. There are more sounds present in the Yamaha DTX-PROX Module than in the DTX-PRO, the resolution of the crash, ride and hi hat samples is also higher, meaning there are more dynamic layers allowing for a more natural playing experience
Triggering and FX
The DTX10 is much faster to trigger than previous DTX models this makes them feel much more natural to play. The DTX-PRO Module also has 256 polyphony, meaning they can play more notes at the same time.
The transient adjustment adjusts the attack and release of the sound, effectively making the instrument sound closer or farther away depending on the settings. Each channel has compression in addition to the compressor modifier. 31 effects can be assigned to each individual channel making each channel a bit different.
Kit Modifiers
The Kit modifier knobs are unique to Yamaha. They allows the user to instantly change the sound by affecting the ambience, compression and effects. You can also see how much each modifiers being used and adjust it in real time.
The ambience Modifier works by adding real room ambience onto the kit sound. When the drumkits were recorded they also took the time to record and sample the actual room sound. You can add this natural ambience onto the drum kit by turning the ambience modifier.
the compression modifier works by adding compression onto the whole kit, a small amount of compression can help to bring the whole kit sound together. More compression adds attack and smack to the sound to give it a more aggressive sound.
The effects modifier works by controlling how much you hear the 2 effects processors as well as the master FX. Each pad can send different amounts of signal to either processor meaning each pad can have different effects on it if required.
Ride Hit Point detection
The Ride Cymbal On the DTX10 have hit point detection or positional sensing, this means it can sense where on the bow it is being played and adjusts the sound being played accordingly, allowing for a more natural playing experience. this is in addition to the 3 zone sensing – Bell, bow, Edge.
USER SAMPLES
You can load up to 1000 of your own samples into the DTX-PRO and PROX Modules. Each sample can be 16 bit or 24 bit, stereo or mono, and is loaded in from a USB drive DTX-PRO = 32Mb (6min 20secs stereo) DTX-PROX= 256Mb (25min 22secs stereo) But this can all be used for drum and percussion sounds as there are other ways to play/ trigger tracks.
LAYERING
Every zone of every pad of the DTX 8 and 10 kits can have 4 layers. Each layer can be an internal sound or a user sample. These sounds can be stacked together or alternated – each time the zone is hit, the next sound in the list is heard. This is a function called Stack/Alt
USER VOICES
The DTX-PRO and PROX Modules have a feature called User Voice which works in parallel with Stack/Alt. This means that up to 40 samples can be loaded onto any zone of any pad. These samples can then be set to play at different dynamics. You could load up to 120 samples per pad – 10 layers and 4 repeating samples on each zone.
record Via USB
You can also use the DTX-PROX to record yourself playing. You simply select the Recorder function, press Record, and start playing its as easy as that. You can use the module alone as an audio notepad and record for 90 seconds, or alternatively you can plug in a USB drive and record for 90 minutes. This means by attaching a microphone to the Aux In, rehearsals and lesson can be easily recorded.
If you want to record yourself playing along to a track and you do not have a computer to hand, you can simply use the DTX-PRO or PROX.
If you put the track onto a USB drive and insert it in the module, select the Recorder, find the track, press Play and then immediately Record as well, the module will record your drums over the audio track*. It is a perfect way to record demos.
TRAINING
The DTX-PRO and PROX have borrowed the best practice functions from previous DTX models. There are 10 training functions that are ideal for players of all standards, as well as 37 training songs that allow you to learn various genres. Drummers of all levels should find the training functions a useful aid for daily practice.
CLICK
The click on the DTX-PROX is exactly what drummers are after – precise, clear, and easily accessible. It can be routed to just the headphone output for use when other musicians are in earshot or can be routed to any of the other outputs for sending to monitors etc – perfect for live use. You can even import your own click samples if there is a click sound you particularly like to use.
HEADPHONE AMPLIFIER
It is incredibly important that drummers can hear themselves clearly, so the new DTX modules comes equipped with a high precision, low distortion, low noise, and high- power headphone amplifier. This circuitry delivers high-fidelity sound directly to the player, and has been developed exclusively for electronic drums. The DTX-PROX has both 6.35mm and 3.5mm headphone outputs for ease of use, whether it is headphones or in ear monitors. The DTXPRO has 6.35mm.
REC'N'SHARE
Rec'n'Share first became known with the EAD10. Now Rec'n'Share works with the DTX8+ and 10 range, meaning it can be used for practice or video making. Rec'n'Share is iOS and Android compatible. The device connects with a USB cable and an adaptor (depending on the device).
PLAY, CHANGE TEMPO, ADD CLICK
Any track which you have on your device, and which you own a copy of, can be used with Rec'n'Share. Streaming sites such as Spotify and Apple Music cannot be used because of Digital Rights Management (DRM). Rec'n'Share can link to Dropbox for easy access of all your music tracks. Any track in Rec'n'Share can have its tempo changed and have a click added to it. You can also loop sections of the track for better practice sessions.
FILM, EDIT, MIX, UPLOAD
As well as recording your playing, the Rec'n'Share App can also be used to record drum videos, by using the audio from the DTX-PRO or PROX, and the video capture of the attached device. Videos can be trimmed and edited, mixes changed, and the final result can be easily shared directly from the app.
CUBASE AI
Every DTX8 and 10 kit comes with a download code to get a copy of Cubase AI, the powerful music production software from Steinberg.
By connecting the DTX-PRO or PROX to your computer with a USB cable, all recording, editing, and mixing tasks that are found in modern music production, can be handled by Cubase
Included

DTX-PROX Drum Trigger Module (x1)
XP125SD-X 12" TCS Snare Pad (x1)
XP105T-X 10" Tom Pads (x2)
XP125T-X 12" Tom Pad (x1)
KP128 Kick Pad (x1)
PCY175 Pad (x1) Ride Pad
PCY155 Pad (x1) Crash Pad
PCY135 Pad (x1) Crash Pad
RHH135 Hi Hat Controller
RS10-HXR Hex Rack System
Power adapter, Module holder, manual
Best offers
Join Risk Free
30 days refund
100% Safe
Secure Shopping
24x7 Support
Online 24 hours
Free Shiping
On all order over
Testimonials
Sabina
Vivamus arcu felis bibendum ut tristique et egestas. Eu sem integer vitae justo eget magna fermentum
Ricky
Vivamus arcu felis bibendum ut tristique et egestas. Eu sem integer vitae justo eget magna fermentum